Skip to product information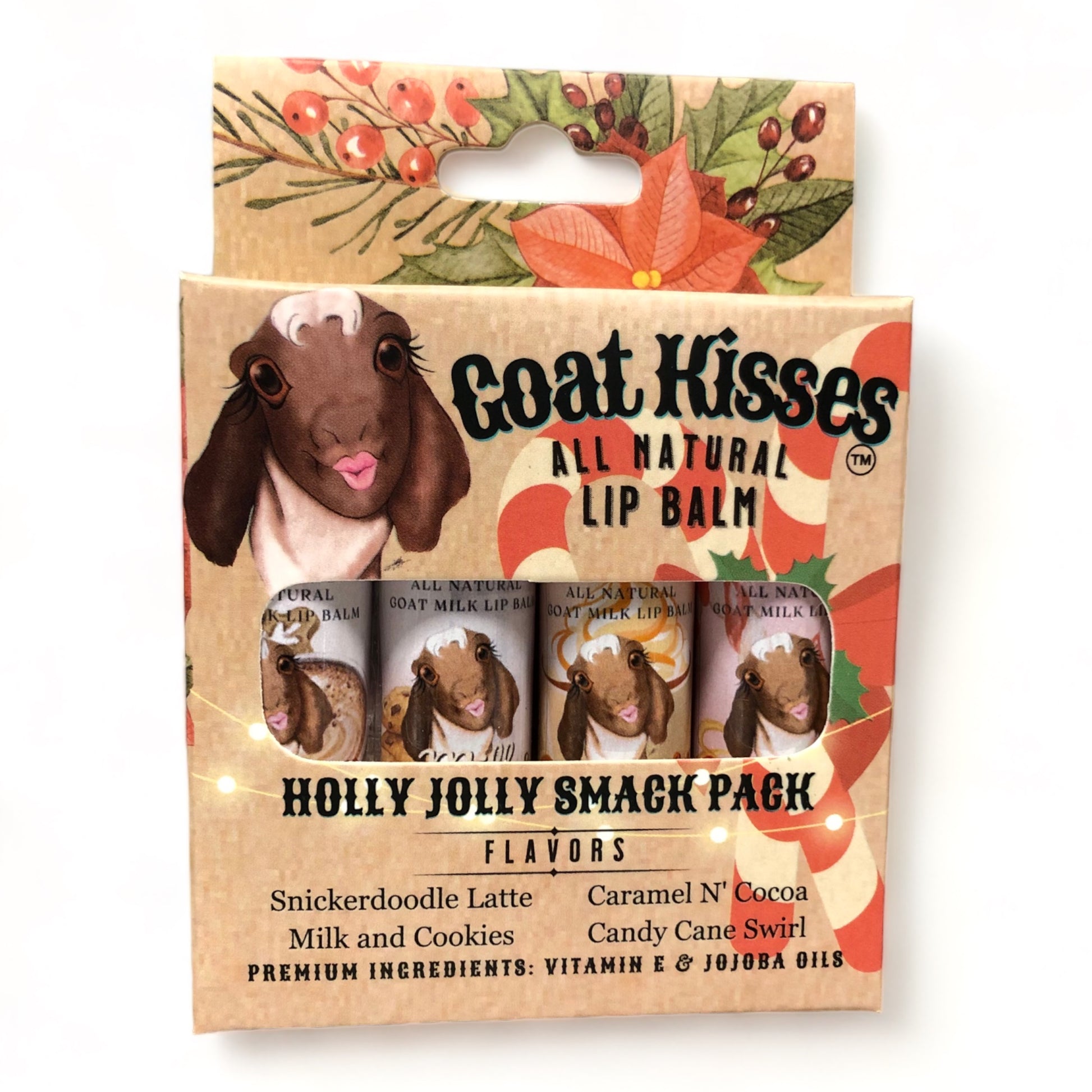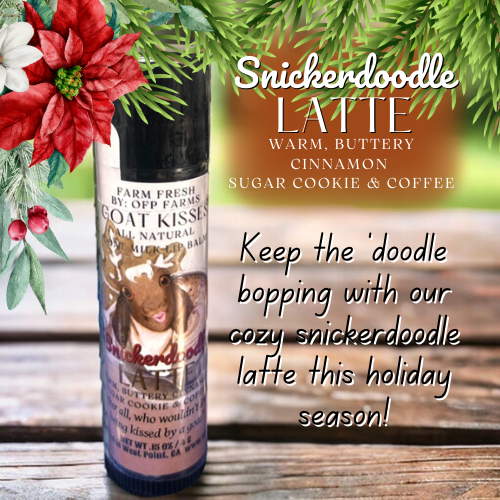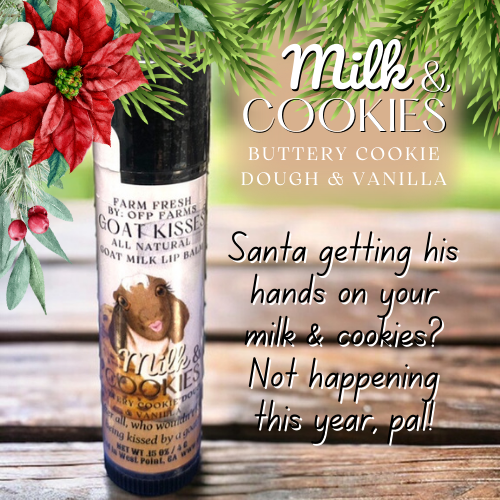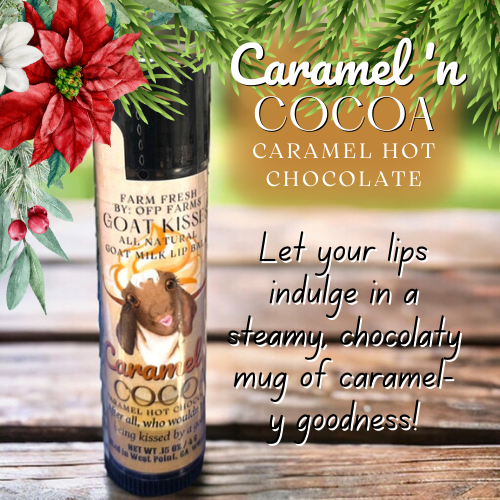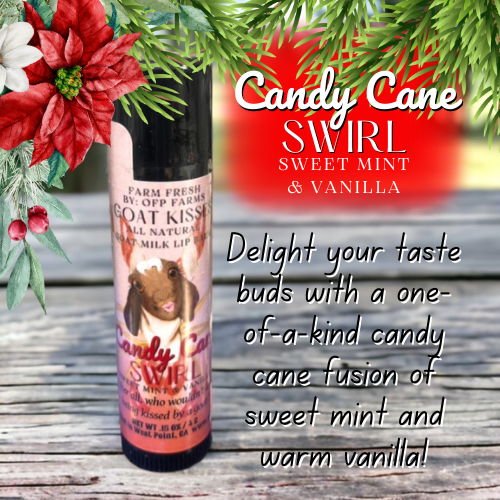 Goat Kisses, Smack Pack, 4 Lip Balms, HOLLY JOLLY PACK
Sale price
$21.00 CAD
Regular price
$22.00 CAD

Lip Balm - Pack of 4
HOLLY JOLLY SMACK PACK

- LIMITED EDITION -
It's the most wonderful time of the year, so have a cup of cheer with one of our LIMITED TIME ONLY scrumptious holiday flavors! Whether you're saying hello to friends you know or kissin' under the mistletoe, you're sure to feel holly jolly all season long!

Made with premium quality ingredients like vitamin E, jojoba and all natural bees wax.
Providing natural moisture and locking in healthy goodness for your smacker.
Does not leave a waxy residue.

Snickerdoodle Latte, Lip Balm
Warm cinnamon, buttery sugar cookie just like mama makes

Caramel n' Cocoa, Lip Balm
A steaming cup of hot chocolate and marshmallows, laced with caramel goodness.

Milk and Cookies, Lip Balm
Creamy vanilla and warm, buttery cookie dough flavor

Candy Cane Swirl, Lip Balm
Just plain sweet! Minty candy cane and vanilla sweetener. Lip smackin' good!

After all, who wouldn't love being kissed by a goat?!

Ingredients: Coconut Oil, Beeswax, Jojoba Oil, Cocoa Butter, Dehydrated Goat Milk, Vitamin E Oil, All Natural Flavoring, All Natural Coloring

4 balms | NET WT 0.15oz/4.25g ea. | TOTAL NET WT 0.6oz/17g

This is not a vegan product as it contains beeswax.
REMEMBER TO APPLY YOUR DISCOUNT CODE AT CHECKOUT!!
CODES ARE CASE SENSITIVE!!! We cannot apply ANY coupon codes once you complete your purchase.
Skip to product information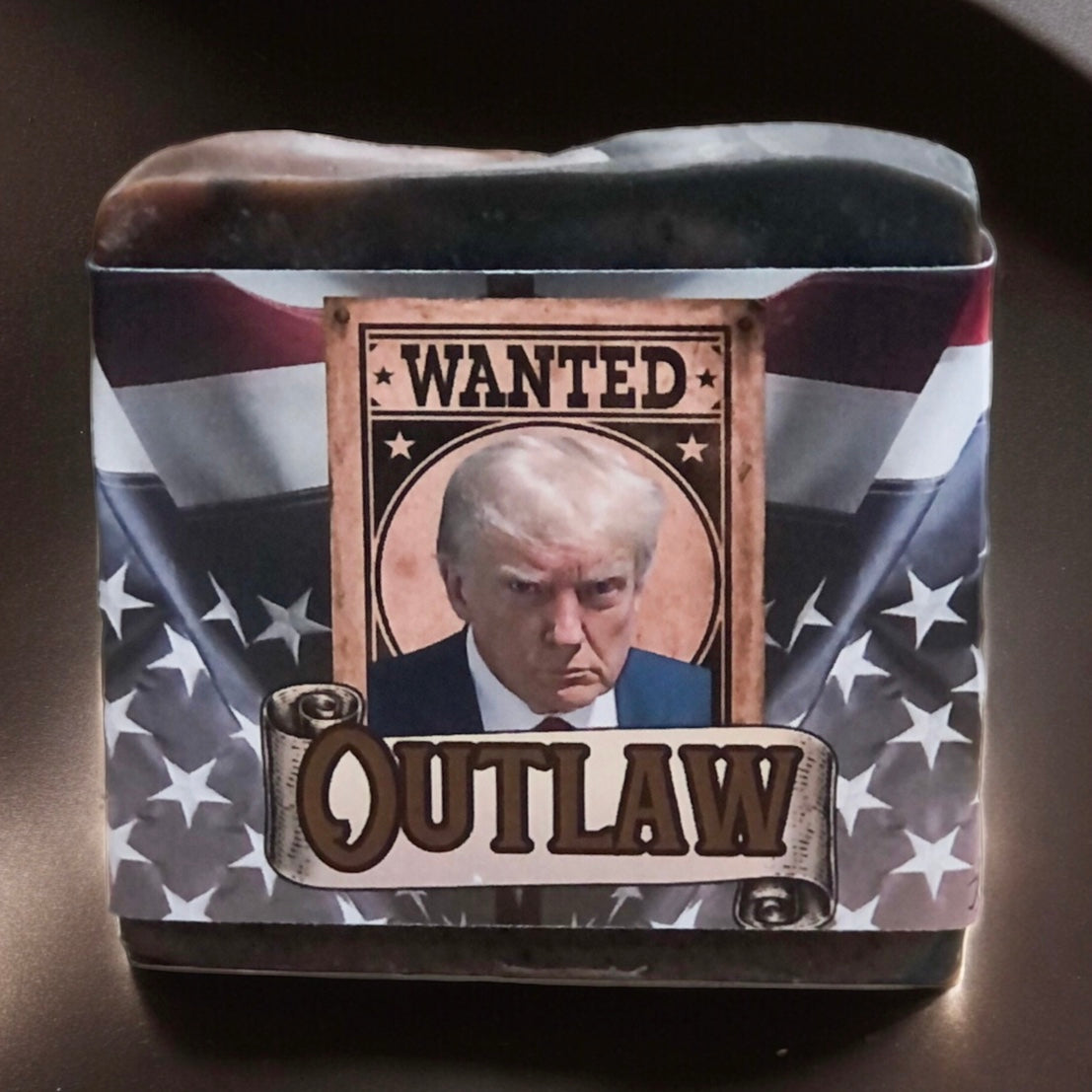 Farm Basics, Gift Set, Christmas!
Sale price
$74.00 CAD
Regular price
Treat someone special to a luxurious Farm Basics, bath and body gift set from Farm Basics! Carefully curated with the best ingredients, this set includes the essentials for a perfect relaxing day at home.
View full details
Skip to product information
Farm Box Bundle, Gift Set, CHRISTMAS Feminine
Sale price
$91.00 CAD
Regular price
This is a perfect gift set that contains the bath basics and is a great gift for any occasion!! 
Choose from 4 Scent Selections or Unscented
- 6 oz Goat Milk Soap
- 8 oz Goat Milk Lotion
- 1 Goat Milk Lip Balm
- All Natural Soap Sack
- Solid Perfume
View full details